Professional Thai Massage Training in Thailand
The pure tradition of Nuad Boran Thai massage
Become a professional masseur in the pure tradition of Nuad Boran Thai massage through a complete immersion in the Thai countryside, the cradle of this ancestral discipline. Join our 150-hour training course over three weeks and learn to provide high-quality care in an authentic and traditional setting. This training is designed for beginners or practitioners looking to master the overall massage session and receive intensive training.
From Saturday, November 18th to Friday, December 8th, our all-inclusive program offers you:
20 nights of full-board accommodation
60 meals (breakfast, lunch, and dinner)
100 hours of practical Thai massage training
50 hours of personal development (self-massage, yoga, meditation)
3 excursions to explore Thai culture in unusual places
Round-trip transportation from the city of Lamphun, located 1 hour from Chiang Mai
Objectives of the Professional Training
With 12 years of experience and continuous improvement of our teaching in Nuad Boran Thai massage, our goal is to enable you to complete the training enriched, confident, and motivated to put your new, strong skills into practice. Nuad Sen Thailand School aims to convey the art of Thai massage while immersing you in traditional Thai philosophy and lifestyle. You will live, eat, and learn to massage the Thai way, alongside the Thai people.
Working as a Thai massage practitioner requires a healthy lifestyle and deep personal practice. That's why our training includes 2.5 hours of daily personal development (self-massage, yoga, meditation), and revitalizing moments.
We have found that students tend to forget some teachings and doubt their skills after training. That's why our program includes real-life situations as masseurs.
After this training, you will be able to offer quality care from 30 to 120 minutes. With a hundred sessions completed after the training, you can start as a professional and develop your own business.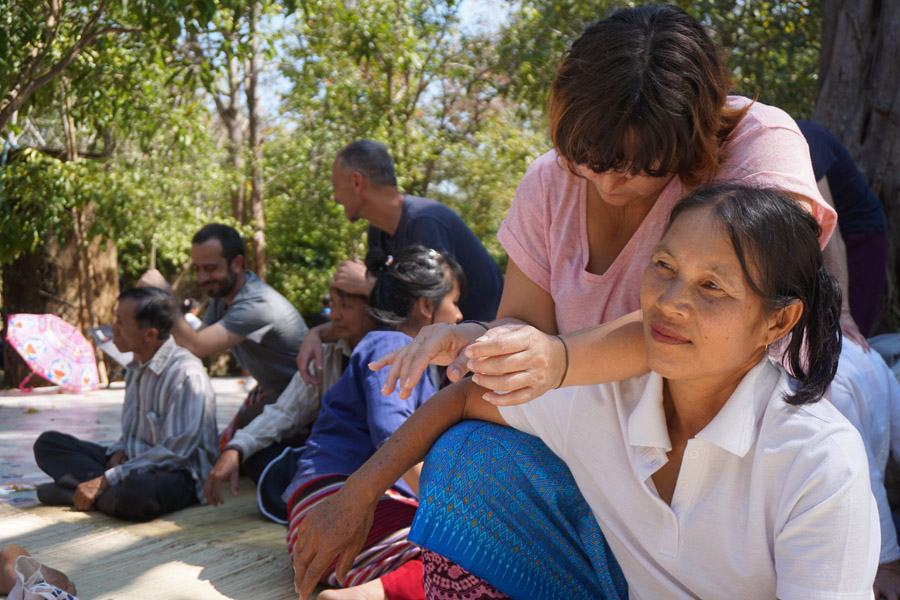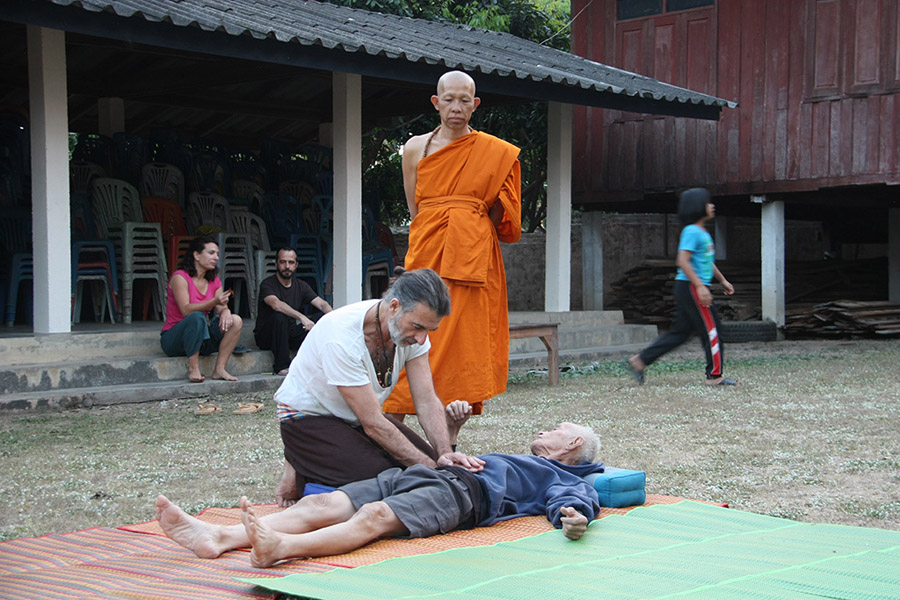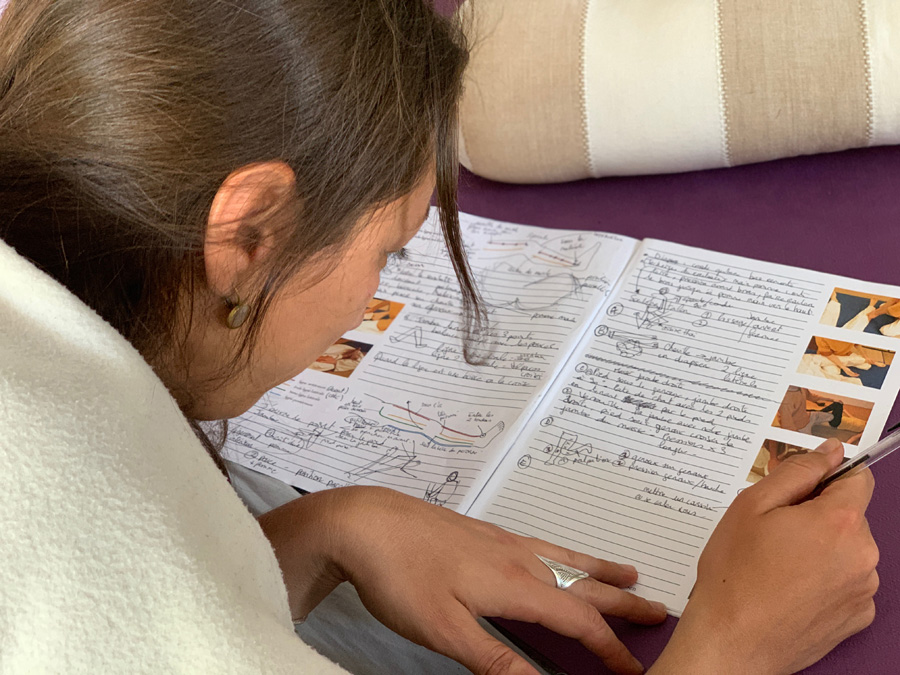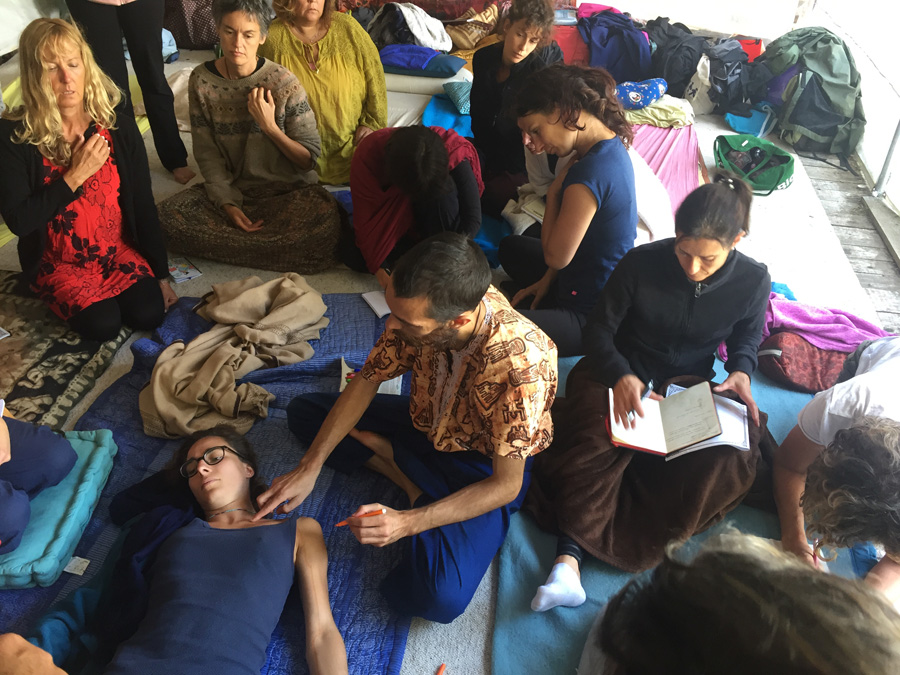 Learning Nuad Boran Thai Massage (65h)
Masseur Fundamentals: positioning, relaxation, weight transfer, receiver setup, movements, etc.
Masseur Qualities: touch improvement, pressure application, progressiveness, fluidity, etc.
Thai Lines: mastery of the main body lines and techniques to work them effectively.
Acupressure: learning the main strategic points and methods to treat them effectively.
Mobilization and stretching techniques.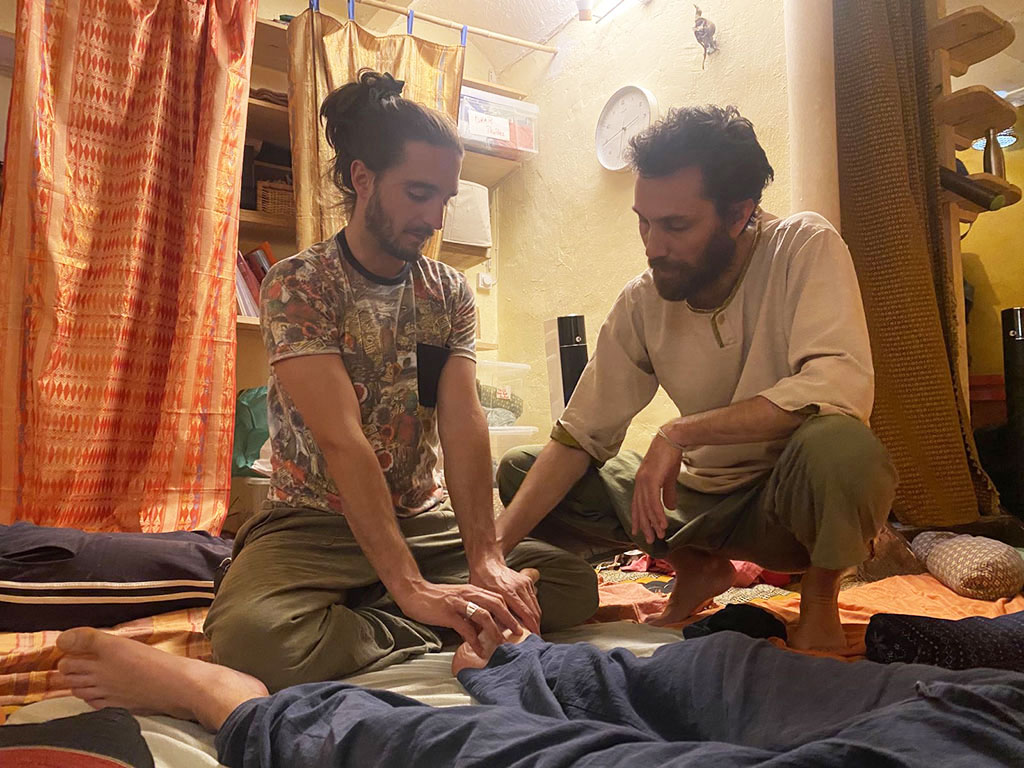 Real-Session Training (35h)
Afternoons will be dedicated to practicing sessions with an external public to the training. We will also massage villagers in the local temple. This practical environment will allow you to integrate teaching, master gestures, and most importantly, gain confidence.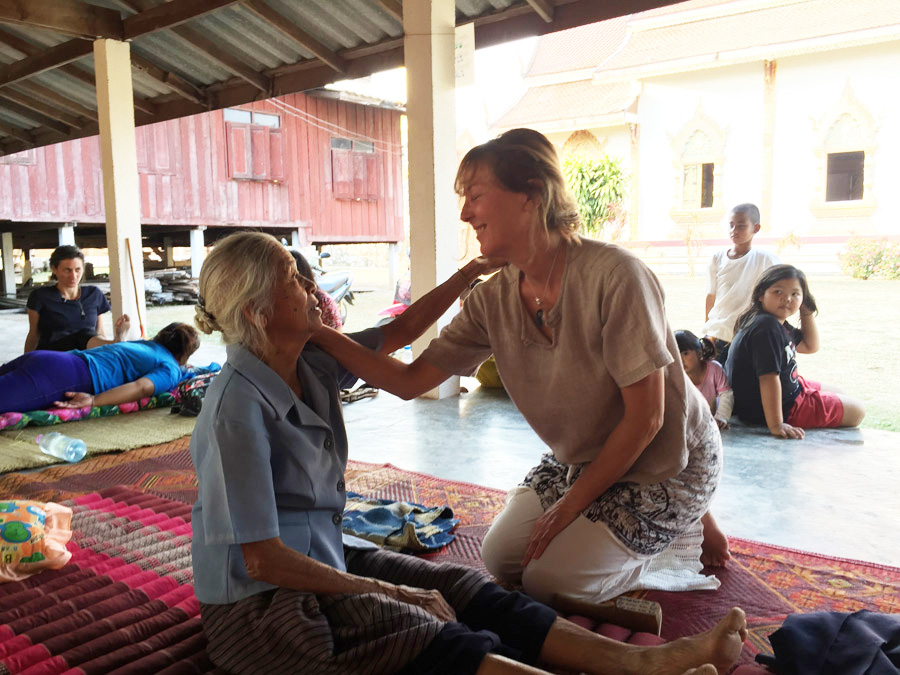 Physical, energetic, and psychological preparation of the future practitioner (50h)
Hatha Yoga: postures, breathing, and concentration.

Seated meditation and walking meditation to develop presence and clarity of mind.

Self-massage: better perception of one's body and learning to release tensions.

Specific preparation for Thai masseurs: deep muscle strengthening for the prevention of neck and lumbar tensions, thumb strengthening, wrist flexibility, etc.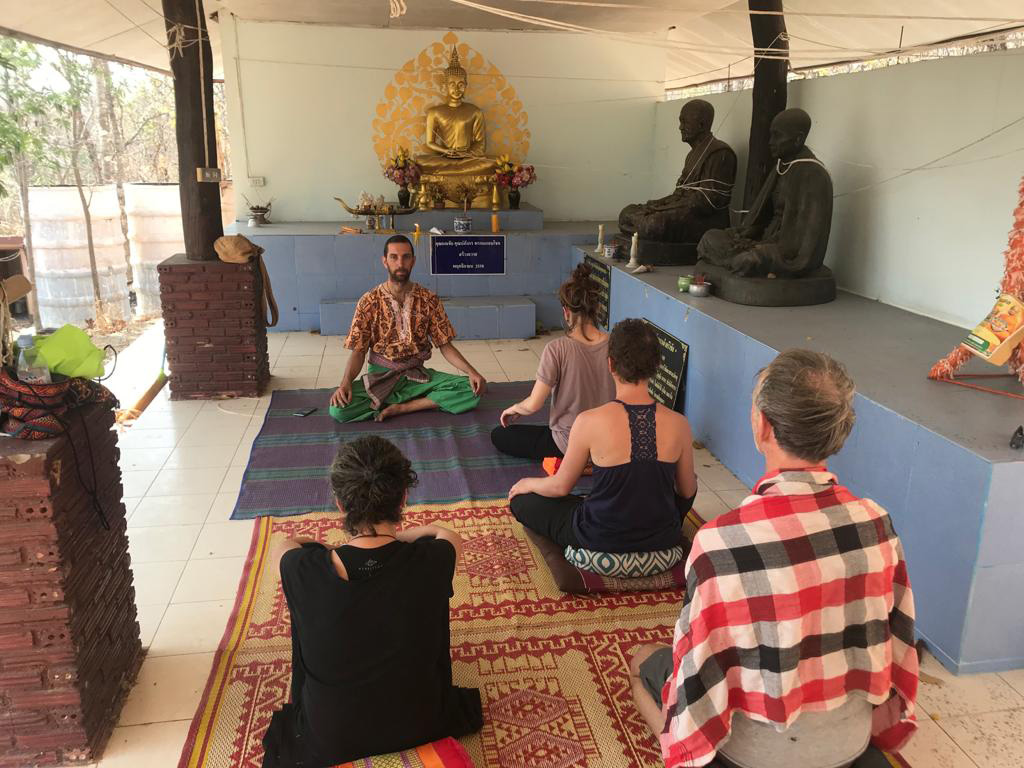 Exchanges with locals, meals, massages, gardening, etc.

Traditional Pali chants with the village temple monks.

Visits to unusual places (temples, caves, waterfalls).

Learning local cuisine with the host family during rest days.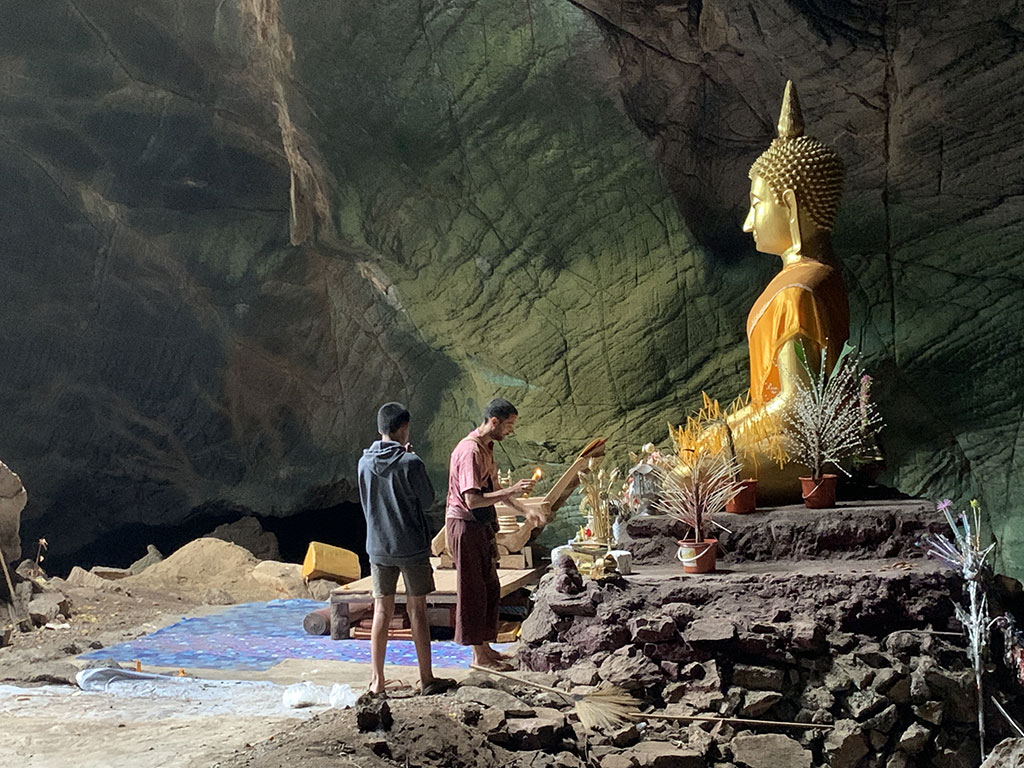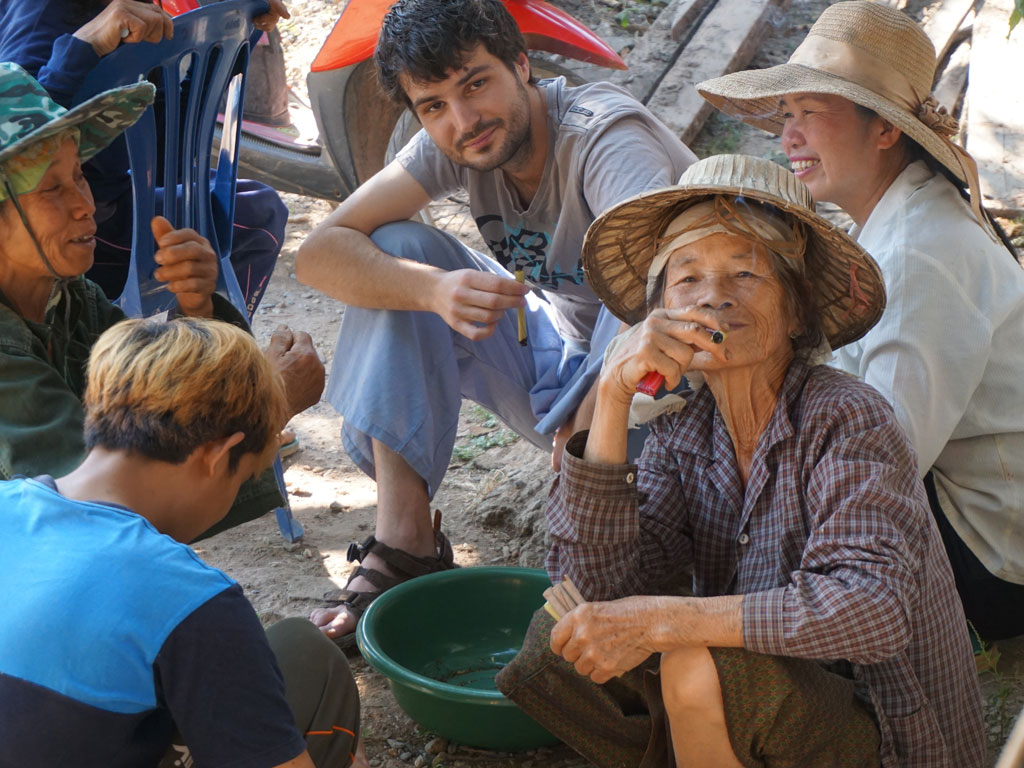 6:30 am: Yoga/meditation (optional)
8:30 am: Breakfast
9:30 am: Study of Thai massage
12:00 pm: Meal/break
2:00 pm: Study and practice of Thai massage
6:30 pm: Meal
8:30 pm: Meditation
9:00 pm: Rest
Immerse Yourself in an Extraordinary Experience
incluant cuisine, équipe et transport
Enjoy 20 full-board nights in the heart of the Thai countryside at the Nuad Sen School Thailand. Nestled between lush fields and dense forest, our school welcomes you to a thriving nature where you will stay in an authentic Thai-style camp (cold or solar shower). You will sleep peacefully in small bamboo/wooden houses, dormitories, or tents, perfect for resting and recharging.
Savor the Art of Thai Cuisine with 60 Included Meals
Simple and traditional cooking.
A selection of mainly vegetarian dishes.
An abundance of fruits.
Fresh juices to complement your meals.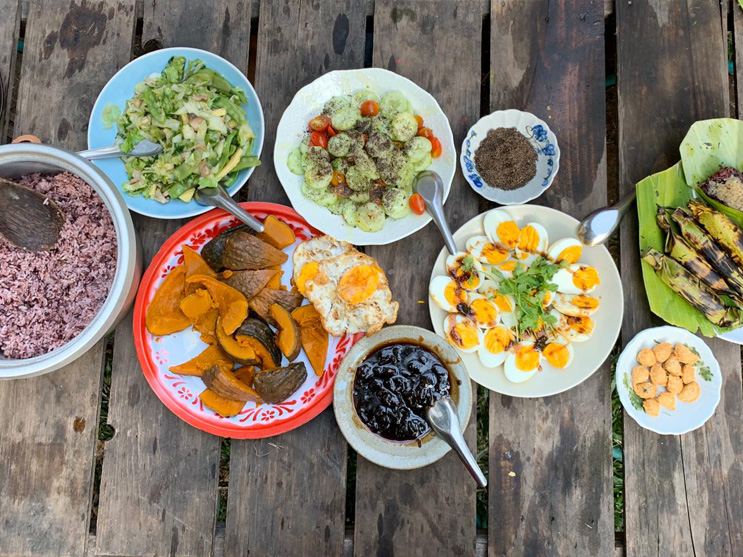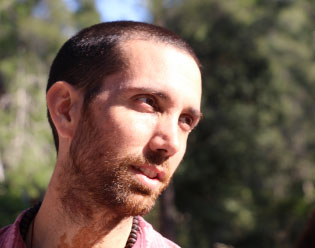 Kru Bountham, Roman Léonardi
Teacher and founder of the Nuad Sen school
Roman began his training in Thailand in 2000, studying in several establishments as well as with independent Nuad Boran masters. During his studies, he developed a strong connection to Thai culture. Since 2006, Roman has been a professional practitioner and in 2011, he founded the Nuad Sen school. As a teacher, his mission is to guide and supervise professionals while promoting therapeutic techniques and the effectiveness of Thai Nuad Boran massage.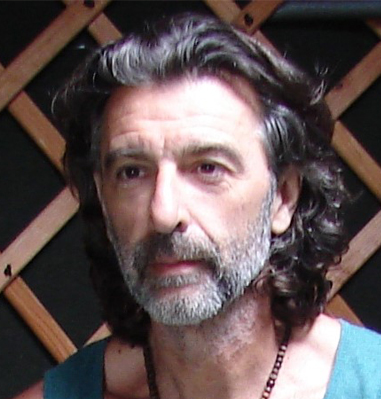 Kru Georges, Georges Torrecilias
Dedicated assistant teacher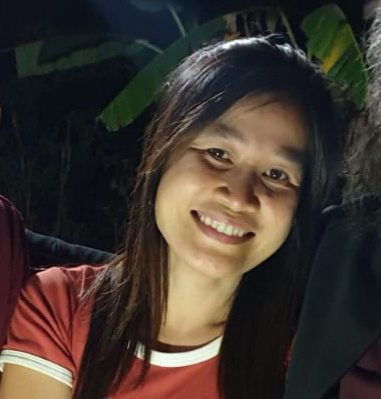 Kun Pung Panyadang
Kitchen manager
attentive to every detail.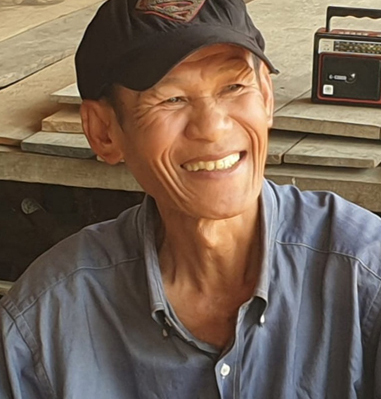 Poo Saïo
Guardian and site manager
ensuring the well-being of all.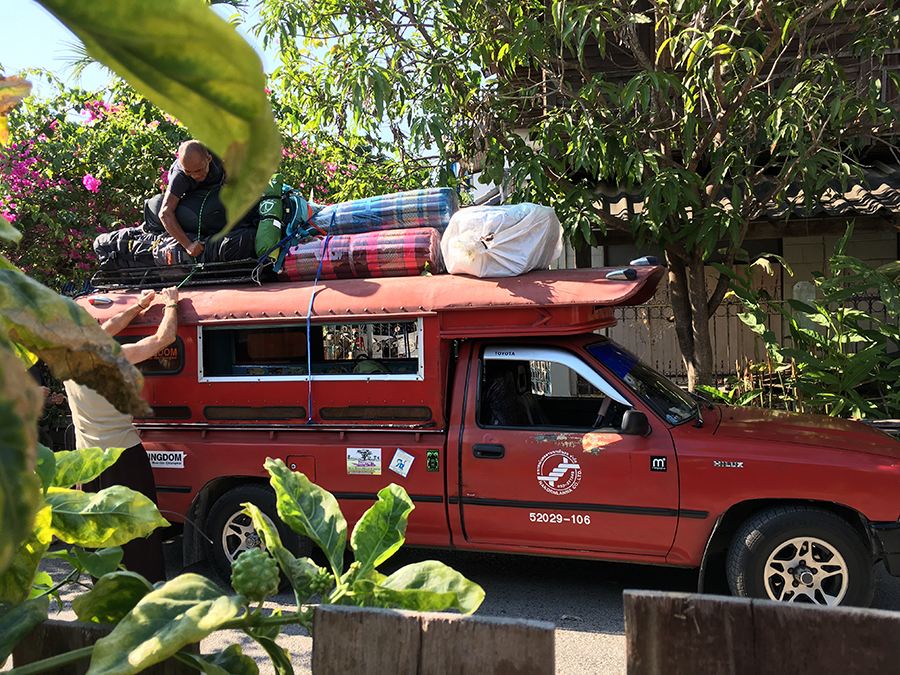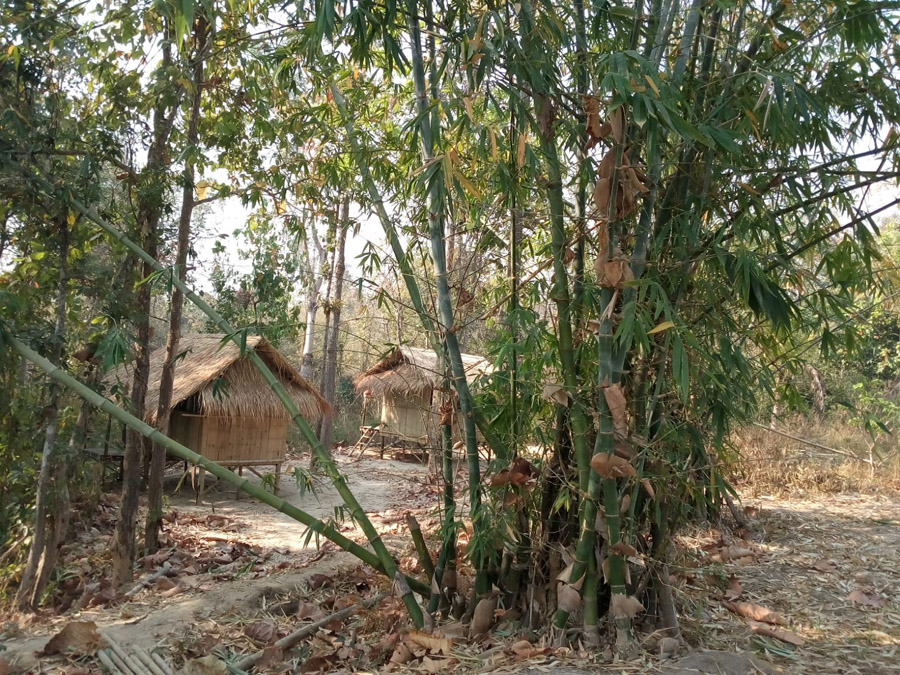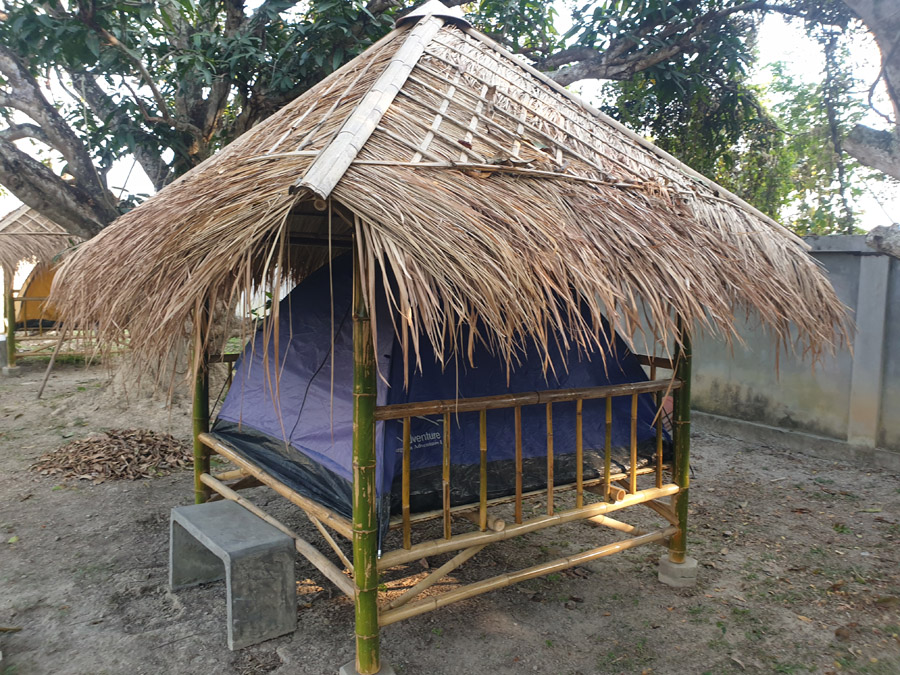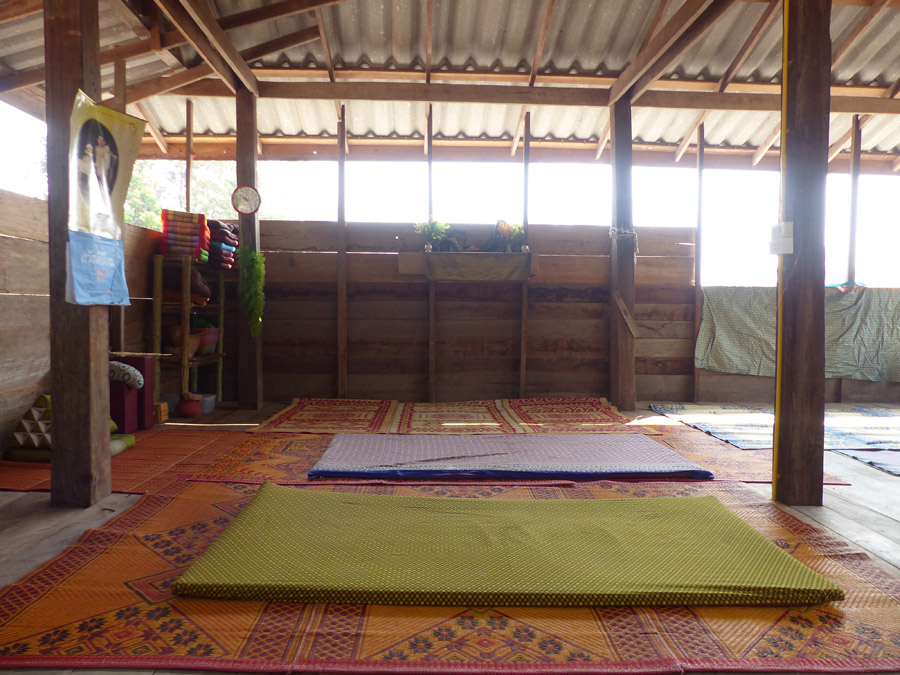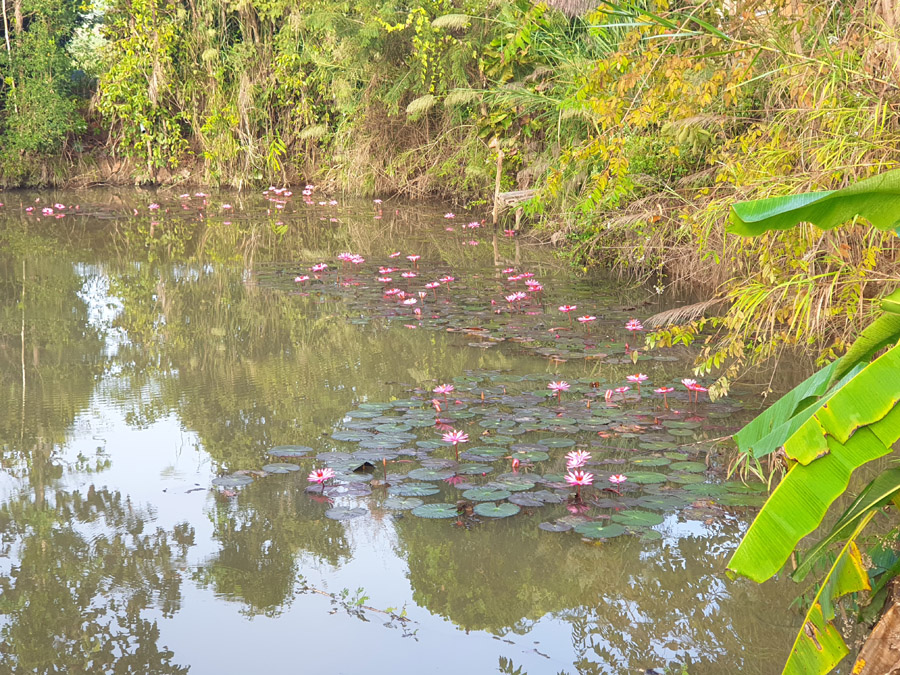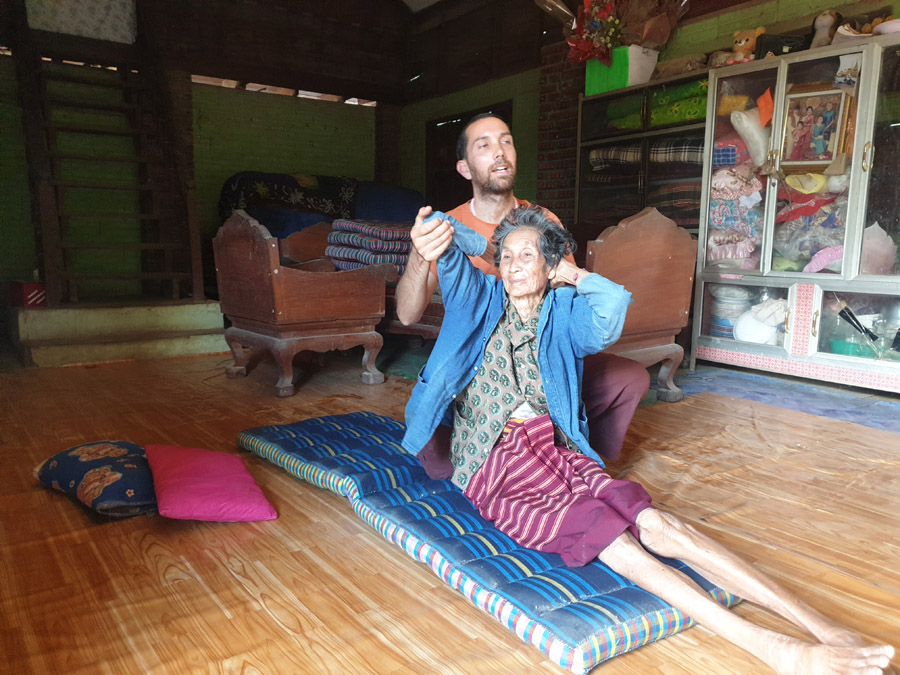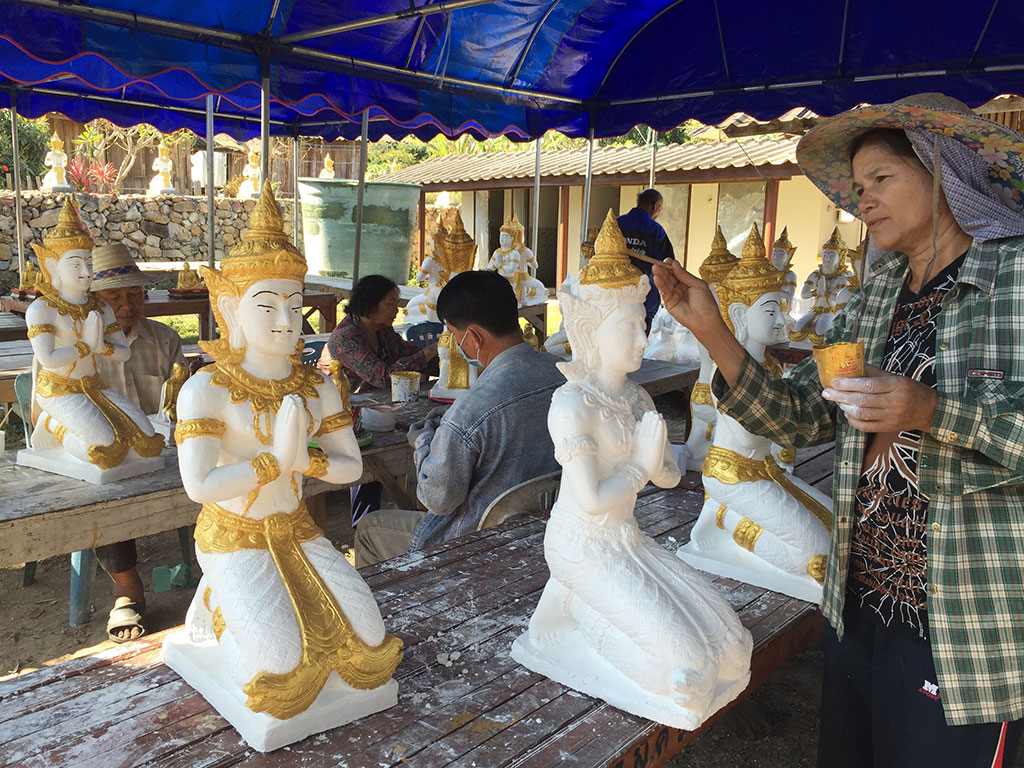 Transportation and Meeting Points
Meet at the Patty Premier Hotel in Lamphun on Saturday, November 18th at 9:00 am, leaving at 9:30 am. It is recommended to arrive the day before and sleep on-site, with prices ranging from €15 to €30 per night.
To reach Lamphun from Chiang Mai (20 km away)
Take a blue « 2 benches » (public transport with two benches in the back) from the Warorrot Market (riverside side). Departures are scheduled every hour towards Lamphun (allow approximately 1 hour of travel). Get off at the Chakkam School stop and reach the hotel, a 5-minute walk behind the school.
For the return trip
The return to Lamphun is scheduled for Friday, December 8th at 10:00 am.
All-inclusive rate: €980
Enjoy a 10% discount by booking before July 15th
Limited spots available for 18 privileged individuals – Don't delay in booking
Opportunity for an additional 10 days of advanced training until December 20th (More info in the article)